By Jonny Pearce
Indigenous school side now face three finals as they bid to book their plane seats to Brisbane – and win the Queensland Schools' Cup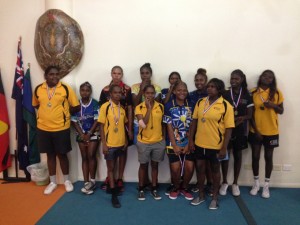 Shalom's AFL open women's side pose with their medals after being crowned champions of the Townsville region.
SHALOM are the AFL school champions of Townsville
A clean sweep of titles for the open aged men and women's sides as well as the under-15s girls saw the Indigenous school crowned triple champions at the Murray Oval.
Regional finals now loom, as the teams face battles against the Cairns region's best outfits – with possible state finals in Brisbane up for grabs – and a chance to win the Queensland Schools' Cup. The women won two out of two, steam rolling both Kirwan and William Ross. It was much tighter for the men. After winning their first three, the side lost by a goal to Kirwan, the school that won the Australian schools rugby league championship. This almost cost Shalom the title. But with Iggy Park, Kirwan and Shalom having notched three wins a piece, the Indigenous school edged the title on goal difference.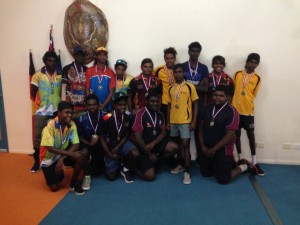 Shalom's AFL open men's side won the title on points scored, after a fiercely contested tournament saw them win three out of four games.
Head of Shalom sports academy Mark Burgess said: 'For the three sides to be playing in the regional championships is outstanding. 'The women were superb. The men thought they'd won it after winning three and switched off. 'They'll need to be fully focused for 100% of their games to win the North Queensland title and be on the plane to Brisbane.' Shalom under-15 girls were named champions without kicking a ball, being the only school to enter a side. The men's side beat Ignatius Park, Abergowrie and William Ross on their way to the title. Regional finals are expected to be played in the second half of June.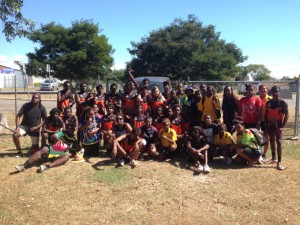 Shalom's victorious teams unite in celebration at Murray Oval